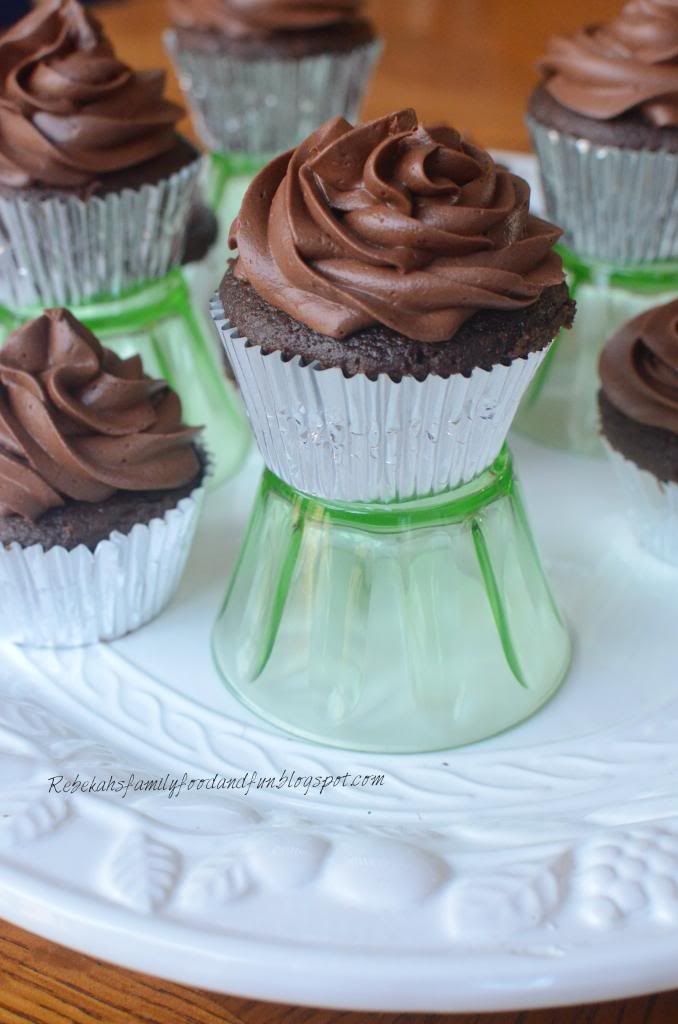 I can hardly believe we've been in Arkansas for 4 weeks already. So much has happened and it all seems a bit of a blur.
We are looking forward to closing on our new home at the end of the month and hopefully moving in the first week of January - whenever our household good get delivered. We can hardly wait to get settled into our own space and start feeling like we're really "home".
This past weekend, my older brother and his family (wife and six kids) were in town. They actually just moved from here to the Houston area last May. My brother completed his PhD. in educational philosophy at the University of Arkansas this year and his wife just completed her nursing degree, and their graduation ceremonies were on Saturday. We had a little graduation party for them on Saturday evening and I jumped at the opportunity to make these cupcakes that I had been thinking about for months.
(who thinks about cupcakes for "months" anyways?)
These are for the true chocolate lover, there is no question. Incredibly rich, they're chocolate cupcakes filled with a dark chocolate ganache and topped with an amazing cream cheese chocolate frosting that is made even more smooth and delectable by the addition of sour cream.
A cup of chilled milk or red wine (if that's what floats your boat) makes a perfect accompaniment for these decadent cupcakes.
While I used bittersweet chocolate in the ganache filling and thoroughly enjoyed it, I think I would prefer semi-sweet chocolate even more. I wouldn't change a thing about the frosting - it's just wonderful.
Triple Chocolate Cupcakes
(adapted slightly from
Annie's Eats
)
Yield: 36 cupcakes
Cupcakes
:
3/4 cup unsweetened cocoa powder
3/4 cup hot water
3 cups all-purpose flour
1 tsp. baking soda
1 tsp. baking powder
1-1/4 tsp. salt
1-1/2 cups (3 sticks) butter
2-1/4 cups sugar
4 large eggs,
room temperature
4 tsp. vanilla extract
1 cup sour cream,
room temperature
Filling:
8 oz. semi-sweet or bittersweet chocolate,
finely chopped (I used Ghiradelli chips)
1 cup plus 2 T. heavy cream
4 T. butter
, cut into 4 pieces, at room temperature
Frosting:
14 oz. bittersweet chocolate,
finely chopped (I used Ghiradelli chips again)
8 oz cream cheese,
room temperature
11 T. butter
, room temperature (1 stick plus 3 T.)
3 cups powdered sugar
6 T. unsweetened cocoa powder
Pinch of salt
1 cup plus 2 T. sour cream
To make the cupcakes, preheat the oven to 350 degrees. Line standard cupcake pans with paper liners. In a small bowl, whisk together the cocoa powder and hot water until smooth. In a medium bowl, whisk together the flour, baking soda, baking powder, and salt; set aside.
In a medium saucepan, combine the butter and sugar over medium heat. Heat, stirring occasionally to combine, until the butter is melted. Remove the mixture from the heat and transfer to the bowl of an electric mixer fitted with the paddle attachment. Beat on medium-low speed for 4-5 minutes, until the mixture is cooled. Mix in the eggs, one at a time, scraping down the sides of the bowl as needed and beating well after each addition. Mix in the vanilla and then the cocoa mixture and beat until incorporated. With the mixer on low speed, add in the dry ingredients in two batches, alternating with the sour cream, beating just until combined.
Pour into prepared cupcake liners, filling about 3/4 full. Bake 18-20 minutes or until a toothpick inserted in the center comes out clean. Allow to cool in the pan 5-10 minutes, then transfer to a wire rack to cool completely.
To make the ganache, place the chopped chocolate in a bowl. Heat the cream in a small saucepan and bring to a boil. Once boiling, remove from the heat and pour over the chocolate. Let stand about 1 minute. Gently stir until smooth, then whisk in butter 1 piece at a time until incorporated. Place bowl in freezer or refrigerator to chill and thicken the ganache a bit. Whisk every 5-10 minutes to help it cool evenly. Once it is slightly thickened and no longer runny, you are ready to fill the cupcakes.
To assemble the cupcakes, cut a cone out of the center of each cupcake with a small paring knife. Cut off the pointed end of the cone and set aside, so you are left with a cap of cake to cover the filling. Drop a spoonful of ganache into the center of each cupcake and recover the hole with the cap.
To make the frosting, melt the chocolate in a heat-proof bowl set over a pot of simmering water. Set aside to cool until just barely warm. With an electric mixer and the paddle attachment, beat the cream cheese and butter on medium-high speed until pale and fluffy, about 3-4 minutes. Gradually mix in the powdered sugar, cocoa powder, and salt. Beat in the melted and cooled chocolate and then the sour cream. Continue beating until the mixture is smooth and well blended. Frost cupcakes using a pastry bag fitted with a large star tip (I used a Wilton 1M).